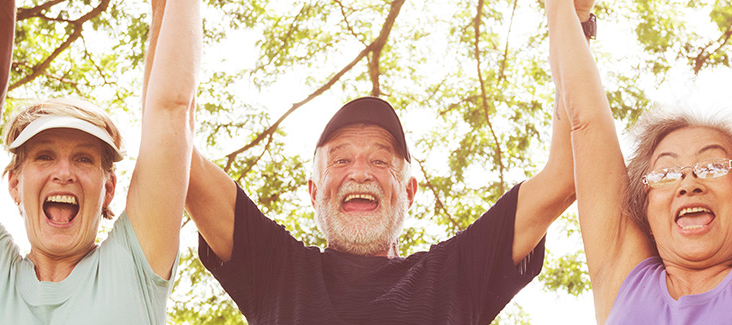 Silver Sneakers and Silver & Fit Classes in Clairemont, San Diego CA
We proudly welcome all members of the Silver Sneakers fitness program! We offer Silver Sneakers Classic, Silver Sneaker Circuit, and Silver & Fit classes several times a week. These classes are specifically designed for 65+ seniors with the goal of keeping participants engaged and interested in fun, social exercises. The classes are open to older adults of all fitness levels and interests; many people who start the program have never taken a fitness class before. Anyone is welcome!
Silver Sneakers was founded more than 25 years ago to encourage older adults to participate in physical activities that will help them pursue fitness goals on their own terms. It sponsors activities, social events, and other events to help seniors take charge of their health as they get older. The program's group exercise classes are designed to help improve general fitness, muscular strength, endurance and cardiovascular endurance, flexibility, and walking ability.
Silver Sneakers 1 (Classic)
Move through a variety of exercises (with the help of music!) that are designed to increase muscle strength and range of movement for daily living. Handheld weights, elastic tubing with handles, and a Silver Sneakers ball are all available for resistance. A chair can be used for seated exercises and standing support. The Silver Sneakers Classic class focuses on building and strengthening your balance, coordination, agility, and speed with the help of resistance tools and weights. Each session begins with warm-up exercises and stretches, then you'll move to the music as you're instructed through a series of exercises. The class ends with a cool-down session. There are several health benefits including:
Increased muscular strength
Increased range of movement
Increased daily living skill
Allows you to stay active and independent
The workout is suitable for beginning to intermediate skill levels, and each class is 55 minutes.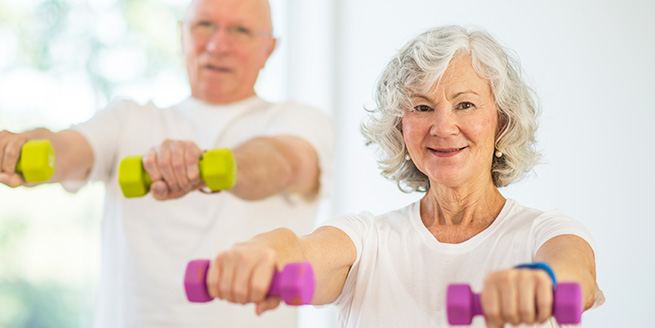 Silver Sneakers 2 (Circuit)
The Silver Sneakers Circuit workout combines low-impact aerobic choreography with standing upper-body strength work using handheld weights, elastic tubing, and a Silver Sneakers ball. The class focuses on increasing cardiovascular and muscular endurance through non-impact cardio conditioning and alternating resistance moves. There are numerous health benefits of the Silver Sneakers Circuit workout! Just one class can:
Improve overall cardiovascular health
Increase muscular endurance
Increase upper body strength
Increase metabolism
Increase range of motion
The workout is suitable for all fitness levels, and each class is 55 minutes.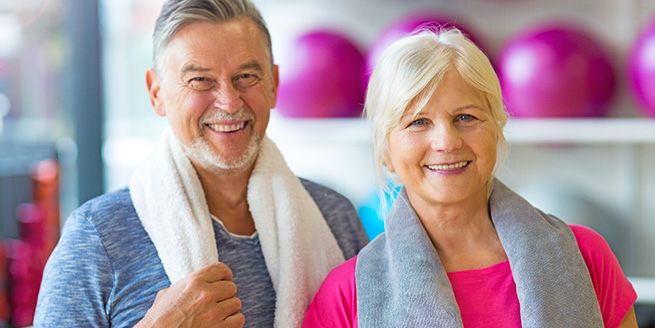 Silver & Fit
No matter what your age, regular physical activity is a great way to improve your health. Silver & Fit is an exercise and healthy aging program that was launched in 2005, and is geared specifically towards older adults and active seniors. Members can enjoy free or low-cost fitness classes and access to gym equipment at participating gyms like Being Fit. Each Silver & Fit class in the program focuses on providing a total body workout that is suitable for any fitness level and promotes healthy aging routines and a better quality of life through regular physical activity. Silver & Fit sessions are also a great way for seniors to get to know their community and socialize with other older adults in the area. Our Silver & Fit classes combine low-impact cardio, strength and balance work, and full-body stretching to give older adults everything they need in one session. Each class begins with a gentle cardiovascular workout and light stretching to warm up the muscles and joints. The session will then spend time on strength and balance work to help improve posture and increase joint flexibility. Finally, the class incorporates a blend of stretching and mobility exercises to enhance participants' functional range of motion; you'll leave you feeling relaxed, invigorated, and energized. Benefits of Silver & Fit:
Increases flexibility and joint mobility/stability

Can reduce pain associated with arthritis

Improves balance, coordination, and agility
Strengthens muscles
Improves cardiovascular endurance
Improves breathing techniques
Boosts mood and energy
Reduces fatigue
Each Silver & Fit class is 55 minutes. Participants are encouraged to dress in loose and comfortable clothing, comfortable fitness shoes, and come prepared to enjoy a fun and social class that will definitely get you moving!